Zacharie Cloutier (~1590 Mortagne-au-Perche - 1677 Chateau-Richer)

Zacharie Cloutier was born in 1590 in the parish of Saint-Jean-Baptiste de Mortagne, now attached to the municipality of Mortagne-au-Perche (France). He was the son of Denis Cloutier and his first wife Renee Briere. He married Xainte (or Sainte) Dupont, the widow of Michel Lermusier, in the same parish on July 18, 1616. Xainte was his junior by six years.

Zacharie is, with Jean Guyon, recruited on March 14, 1634 in Mortagne by Robert Giffard to expand the colony of New France who numbered about 100 prior to their arrival.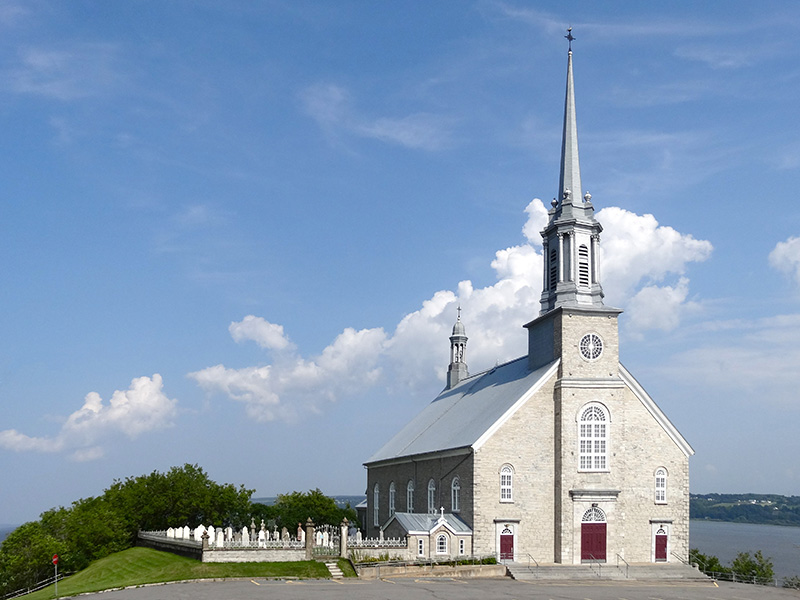 Zacharie Cloutier received an official grant of land on February 3, 1637 which was known as "La Clouterie", or Cloutiererie in Beauport.

All Cloutier in North America descend from this couple who had six children, all born in Mortagne between 1617 and 1632, but a daughter, Xainte, died when she was six.

The first to found a family is Anne Cloutier, baptised on January 19, 1626, in St-Jean de Mortagne. She married the pionner Robert Drouin on July 12, 1637 at the age of 11, after having signed the first marriage contract in New France on July 27, 1636.

The oldest, Zacharie Cloutier, baptised on August 16, 1617, in Mortagne, married with Madeleine Emard in 1648 in France. The couple came back to the colony with two of her sisters, Barbe Emard who married with the founder of Beaupre, Olivier LeTardif and, Anne Emard with Guillaume Cousture. The couple Cloutier/Emard had eight children. Barbe Cloutier married Charles Belanger in 1663; Rene Cloutier, born in 1651, married Marie-elisabeth Leblanc in 1672; Marie-Madeleine Cloutier with Jean Bouchard, dit Dorval, in 1676. And the fourth, Charles Cloutier, born in 1662, married Anne Thibault in 1685.

The second son, Jean Cloutier, baptised on May 13, 1620, in St-Jean de Mortagne, married in 1648, Marie Martin, born in 1635, daughter of Abraham Martin and Marguerite Langlois. Three children had a descent. A son, Jean Cloutier in 1679, with Louise Belanger; and two daughters, Marie Cloutier, in 1671 with Jean-François Belanger, and Xainte Cloutier with Charles Fortin, in 1681.

A third son of the couple Zacharie and Sainte Dupont, Charles Cloutier, baptised on May 3, 1629, in Mortagne, married in 1659, Louise Morin, born in 1643, daughter of Noel Morin and Helene Desportes. Three children got married: Elisabeth-Ursule Cloutier with Nicolas Gamache in 1676, Jeanne Cloutier with Claude Gravel in 1687 and then Joseph Cloutier in 1733 with Madeleine Lefebvre.

The fifth child, Marie-Louise Cloutier baptised on March 18, 1632, in Mortagne, the widow of François Marguerie who drowned close to Trois-Rivieres with Jean Amyot, had a second marriage in 1648 with Jean Mignault dit Chatillon.

Zacharie Cloutier died in Chateau-Richer on September 17, 1677 at the age of 87. His wife died three years later on July 13, 1680. The couple is buried together in Chateau-Richer.
---
Family link with Madonna
CLOUTIER Zacharie (~1590 Mortagne-au-Perche - 1677 Chateau-Richer)
DUPONT Xainte (~1596 Mortagne-au-Perche - 1680 Chateau-Richer)
|


---

|
CLOUTIER Zacharie (1617-1708)
EMARD Marie Madeleine (1626-1708)
|
CLOUTIER Rene (1651-)
LEBLANC Marie Elisabeth (1658-1727)
|
CLOUTIER Louise (1676-)
FORTIN Eustache (~ 1658-1736)
|
FORTIN Louis (1711-1788)
BLANCHET Marie Françoise (1709-1753)
|
FORTIN François (1746-1780)
DANDURAND Marie Louise (1744-)
|
|
|
FORTIN Genevieve (~ 1780-)
|


---

|
CLOUTIER Jean (1620-1690)
MARTIN Marie (1635-1699)
|
CLOUTIER Marie Sainte (~ 1661-1725)
FORTIN Charles Thomas (1656-1735)
|
FORTIN Louis (1690-1749)
X


1st marriage
BOSSE Marie Anne (1693-1734)
|
FORTIN Claude Joseph (~ 1712-1799)
METHOT Marie Jeanne (1724-1789)
|
FORTIN Joseph Romain (~ 1750-)
DELISLE Marie Louise (~ 1755-)
|
FORTIN Joseph (1774-)
|


2nd marriage
LANGELIER Marie Madeleine (1707-)
|
FORTIN Augustin Magloire (1739-1800)
THIBAULT Marie Judith Angelique (1755-1810)
|
FORTIN Augustin (1786-)
GAUDREAU Marie-Euphrosine (1788-)
|
FORTIN Narcisse (~ 1825-1896)
RIOUX Marie Felicite (1819-1874)
|
FORTIN Narcisse (1860-1903)
LAJOIE Rose (1869-)
|
|
|
|
|
|
|
|
FORTIN Willard (1903-1959)
|


---

|
FORTIN François (~ 1810-< 1855)
BLIER Marie Victoire (1814-> 1865)
|
FORTIN Henri Nazaire (-> 1900)
DANIEL Emilie (1845-1906)
|
FORTIN Guillaume Henri (1867-1939)
DEMERS Marie-Louise (1875-1929)
|
FORTIN Elsie (1911)
|


---

|
FORTIN Madonna Louise (1933-1963)
CICCONE Silvio Anthony (1931- )
|
CICCONE Madonna Veronica Louise (1958)


---
---
Family link with Celine Dion
CLOUTIER Zacharie (~1590 Mortagne-au-Perche - 1677 Chateau-Richer)
DUPONT Xainte (~1596 Mortagne-au-Perche - 1680 Chateau-Richer)
|


---

|
CLOUTIER Charles (1629-1709)
MORIN Louise (1643-1713)
|
CLOUTIER Elizabeth Ursule (1660-)
GAMACHE Nicolas (1639-1699)
|
GAMACHE Marie Anne (1694-1759)
GUYON Louis (1697-)
|
GUYON Joseph Joachim (1728-)
FOURNIER Marie Marguerite (1734-)
|
GUYON Joseph (1781-)
BERNIER Yvonne Modeste (1776-)
|
DION Joseph (~ 1810-)
CHESNEL Julie (~ 1813-)
|
DION Joseph-Adelard (~ 1845-1905)
LeTOURNEAU Marcelline (1845-1922)
|
DION Adelard (1868-1940)
LeVESQUE Esther (1871-1934)
|
DION Charles Edouard (1895-1957)
BARRIAULT Marie Ernestine (1904-1980)
|
DION Adhemar (1923-2003)
|


|
CLOUTIER Jean (1620-1690)
MARTIN Marie (1635-1699)
|
CLOUTIER Anne (1659-1714)
MERCIER Pascal (-)
|
MERCIER Pascal (1684-1727)
BOUCHER Marie Madeleine (~ 1688-)
|
MERCIER Marie Genevieve (1712-1737)
TANGUAY Jacques (1701-)
|
TANGUAY Jacques (1730-1792)
MORIN Marie Therese (~ 1738-)
|
TANGUAY Jacques (1763-)
ALLAIRE Therese (-)
|
TANGUAY François-Xavier (-)
BERNARD Angelique (-)
|
TANGUAY Achille (-)
PARENT Marie Malvina (1853-1897)
|
TANGUAY Achille Laureat (-)
SERGERIE Antoinette (1897-)
|
TANGUAY Marie Therese (1927)
|


---

|
DION Adhemar (1923-2003)
TANGUAY Therese (1927)
|
DION Celine (1968)

---
Family link with Camilla, Duchess of Cornwall
CLOUTIER Zacharie (~1590 Mortagne-au-Perche - 1677 Chateau-Richer)
DUPONT Xainte (~1596 Mortagne-au-Perche - 1680 Chateau-Richer)
|
CLOUTIER Zacharie (1617-1708)
EMARD Marie Madeleine (1626-1708)
|
CLOUTIER Genevieve (1655-1725)
GUYON Joseph (1649-1712)
|
GUYON Joseph (1682-1754)
GUILLET Marie elisabeth (1694-)
|
GUYON Marie Josephe (1715-)
COURSOLLE Michel (~ 1712-1775)
|
COURSOLLE Marie Charlotte (1756-1805)
JONES Ephraim (1750-1812)
|
JONES Sophia (1785-1837)
STUART John (1777-1829)
|
STUART Mary (1812-1846)
MACNAB Allen Napier (1798-1862)
|
MACNAB Sophia Mary (1832-1917)
KEPPEL William Coutts (1832-1894)
|
KEPPEL Honourable George (1865-1947)
EDMONSTONE Alice Frederica (1869-1947)
|
KEPPEL Sonia Rosemary (1900-1986)
CUBITT Roland Calvert (1899-1962)
|
CUBITT Honourable Rosalind Maud (1921-1994)
SHAND Bruce Middleton Hope (1917-2006)
|
SHAND Camilla Rosemary (1947)

---
Family link with Angelina Jolie
CLOUTIER Zacharie (~1590 Mortagne-au-Perche - 1677 Chateau-Richer)
DUPONT Xainte (~1596 Mortagne-au-Perche - 1680 Chateau-Richer)
|


---

|
CLOUTIER Charles (1629-1709)
MORIN Louise (1643-1713)
|
CLOUTIER Elizabeth Ursule (1660-)
GAMACHE Nicolas (1639-1699)
|
GAMACHE Elisabeth Isabelle (~ 1688-1750)
RICHARD Pierre (1681-1756)
|
RICHARD Jean Baptiste (1712-1755)
BOUCHER Marie Angelique (-)
|
RICHARD Marie Anne (1742-1809)
MAILLET Pierre (1731-1809)
|
MAILLET Jean Baptiste (1759-)
MAUFETTE Ursule (1766-)
|
MAILLET Desire (~ 1795-)
|


|
CLOUTIER Louise Marie (1632-1699)
MIGNEAULT Jean François (1622-~ 1681)
|
MIGNEAULT Marie Madeleine (1654-1714)
PELLETIER Noël (1654-1712)
|
PELLETIER Guillaume (1681-1734)
PINEL Marie-Louise (~ 1688-1752)
|
PELLETIER Marie Angelique (1713-)
MARTIN François (-)
|
MARTIN Marie Genevieve (1746-)
PICARD Gabriel (1741-)
|
PICARD Marie Genevieve (1766-)
DURAND François (1758-1821)
|
DURAND Julie (~ 1803-)
|


---

|
MAYETTE Desire-Charles (-)
FORTIER Sophia Oliva (-)
|
MAYETTE Delina Adeline (1855-1915)
BERTRAND Louis (1850-1916)
|
BERTRAND George (1889-1962)
LEDUC Angeline (1895-1981)
|
BERTRAND Rolland (1923-1985)
GOUWENS Lois June (1928-1973)
|
BERTRAND Marcheline (1950-2007)
VOIGHT Jonathan (1938-)
|
VOIGHT Angelina Jolie (1975-)


---
Family link with Jack Kerouac
CLOUTIER Zacharie (~1590 Mortagne-au-Perche - 1677 Chateau-Richer)
DUPONT Xainte (~1596 Mortagne-au-Perche - 1680 Chateau-Richer)
|
CLOUTIER Louise Marie (1632-1699)
MIGNEAULT Jean François (1622-~1681)
|
MIGNEAULT Marie Charlotte (1674-1747)
DIONNE Jean (1670-1752)
|
DIONNE Antoine (1707-)
LIZOTTE Marie Anne (1715-)
|
DIONNE Marie Josephe (1746-)
LEVESQUE Pierre (1740-)
|
LEVESQUE Marie Josephe (1770-)
MALENFANT Guillaume (1767-)
|
MALENFANT Jean Baptiste (1798-)
DESTROISMAISONS Marie Anathalie
|
MALENFANT Marie Severine
KEROUAC Edouard
|
KIROUACK Jean-Baptiste
BERNIER Clémentine (1849-)
|
KEROACK Leo-Alcide (1889-1946)
LEVESQUE Gabrielle-Ange (1895-1972)
|
KIROUAC Jean Louis
dit KEROUAC Jack (1922-1969)

---