Celine Dion was born on March 30, 1968 at Hospital Pierre-Le-Gardeur in Repentigny (Quebec), near Charlemagne where her parents, Adhemar Dion (1923-2003) and Marie Therese Tanguay (1927-2020) lived. She is the younger son of a family that already had 13 children and whose child, Denise, was born 22 years earlier in 1946. Her parents of French-Canadian origin were married on June 20, 1945 in La Tuque (Mauricie, Quebec).
On December 17, 1994, at the Notre-Dame Basilica of Montreal, Celine Dion married Rene Angelil, her impresario born on January 16, 1942, to a father of Syrian descent and a mother whose family was of Lebanese origin. The couple has three sons: Rene-Charles (2001) and the twins Nelson and Eddy (2010). On January 14, 2016, Rene Angelil died of cancer at home in Las Vegas.
From Perche to Las Vegas…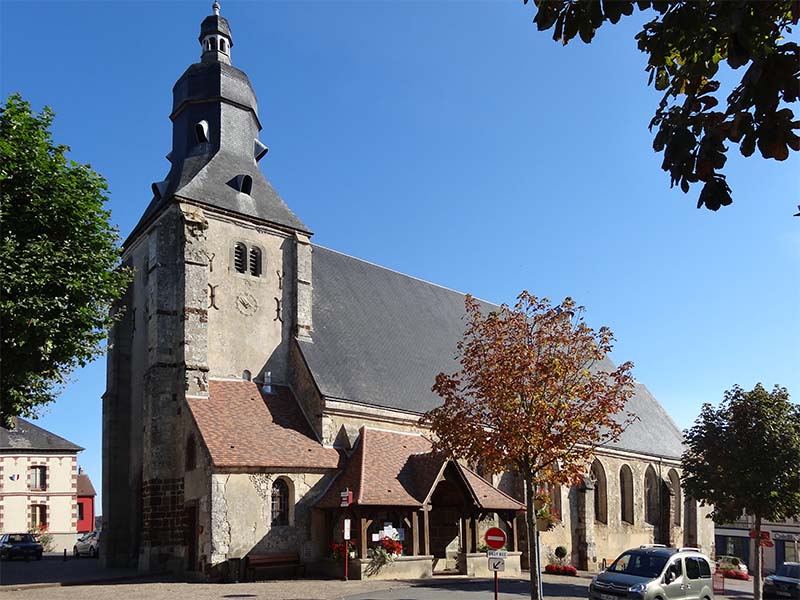 The direct paternal ancestor of Celine Dion, Jean, was named « Guyon ». He was a mason who spent his career in Mortagne (Perche, Orne, France) up to 1634, year of his departure to "La Nouvelle-France" in Canada.

September 18th 1592! While Henri IV tried to conquer his Kingdom, the parish of Tourouvre in Le Perche has been the scene of a modest event. On the parish registers, the priest records the baptismal certificate of a new parishioner in latin: « Johannes filius Jacobi Guyon er Maria eus uxoris... ». His father is a notable, his mother is Marie Huet.

We do not know precisely how his childhood liked like but we found his name mentioned on an act of May 18th, 1614 when he lent money to a ploughman of Autheuil.

One year later, the priest of the parish Saint-Jean de Mortagne writes on a register: "On June 12, 1615, Jehan Guyon, of the parish Tourouvre, and Mathurine Robin, of this parish, were married."

At 42 years old, ten days after the birth of his last child, Jean Guyon will yield to the proposals of Robert Giffard, doctor, cantor of the emigration to Quebec and decides to leave France to make colony in New-France.

In March 1634, Jean and his family, except for his daughter Barbe and his son-in-law who will join the rest of the family in Beauport in 1652, leaves Mortagne. Embarked in Dieppe, the Guyon family will arrive, after two months of sailing, to the mouth of the Saint-Laurent river in June 1634.

Years after years, his children and descendants gave birth to generations of Guyon, renamed Guion or Dion. They are settled in Quebec, Canada and in the United States. Adhemar Dion, father of Celine, native from Charlemagne, is a descendant of Jean Guyon, the first son of the pioneer mason.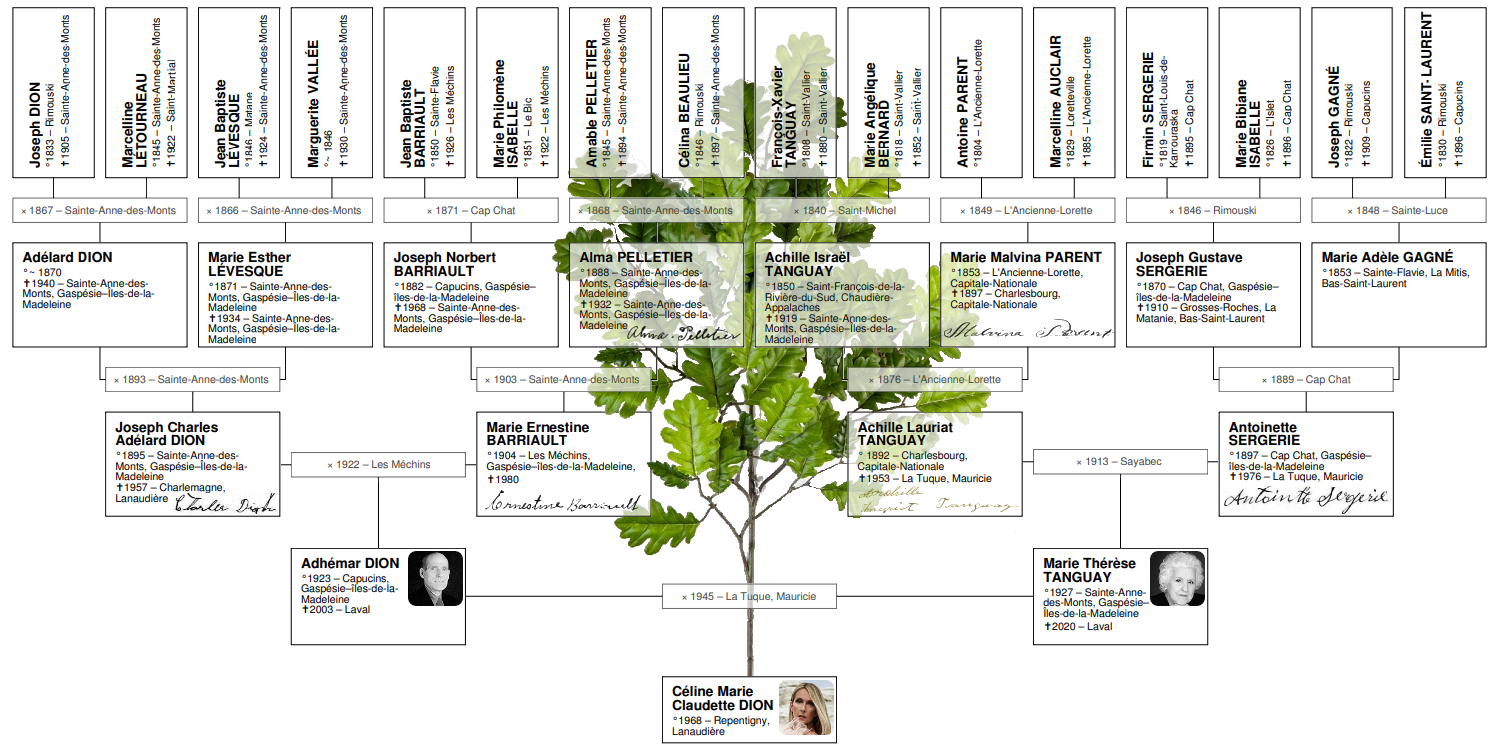 Celine Dion, a cousin of Madonna, Justin Bieber, Justin Trudeau, Hillary Clinton, Ryan Gosling, Angelina Jolie and Camilla, Duchess of Cornwall...
perche-quebec.com has discovered that Celine Dion has many family ties with other celebrities in music (Madonna, Justin Bieber, Alanis Morissette), politics (Hillary Clinton, Justin Trudeau, Stephane Dion), the film industry (Xavier Dolan, Ryan Gosling, Angelina Jolie) and royalty (Camilla, Duchess of Cornwall). All those celebrities have in common French-Canadian pioneers, and in particular Percheron pioneers.

For instance, the Percheron pioneer Zacharie Cloutier, an ancestor of most of the celebrities mentioned before, who was born in Mortagne-au-Perche.

As strange as it may seem, there is nothing exceptional about those family ties. As the Percheron pioneers were among the very first French settlers to arrive in what was then known as New France, most of North Americans with French-Canadian ancestry have Percheron blood and are more or less related.
Famous cousins of Celine Dion
Minimum number of family links
source & infographics perche-quebec.com