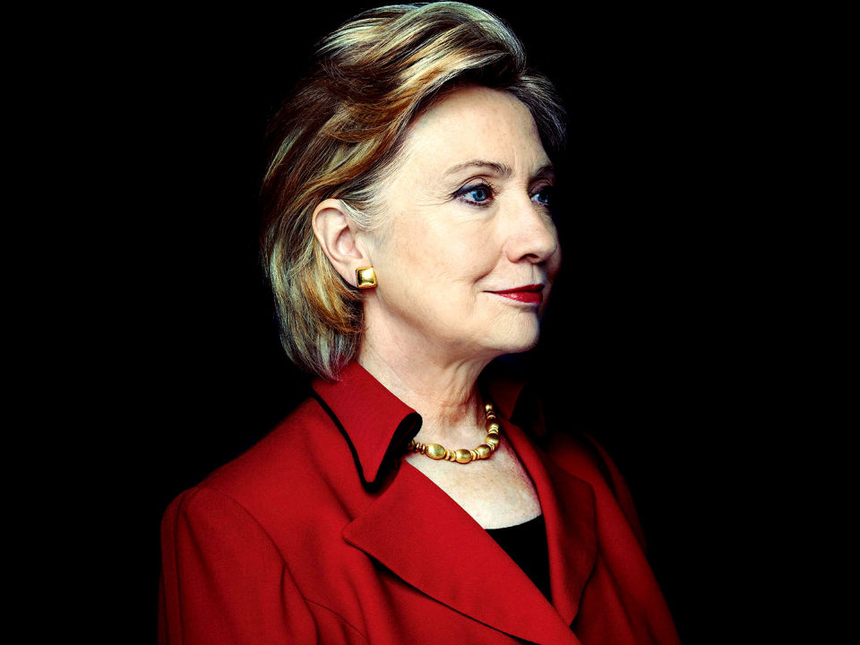 Hillary Clinton, her French-Canadian ancestors
In her autobiography, Living History (editions Simon & Schuster, 2003), Hillary Rodham Clinton, the candidate for the 2016 presidential race, describes her maternal grandmother, Della Murray, as «one of nine children from a family of French Canadian, Scottish and Native American ancestry.»

If so far no records have been found to support this claimed Native American ancestry, the genealogist Gail F. Moreau-DesHarnais and his team have confirmed the presence of French emigrants, particularly form the region the Perche, in the ancestry of Hillary Rodham Clinton. In late 2007, they published the fruits of their research in the magazine Michigan's Habitant Heritage, Journal of the French-Canadian Heritage Society of Michigan.


From the New France to the White House…
The former 67th United States Secretary of State, New York senator and first lady, was born on October 26, 1947 in Chicago (Illinois).

«My mother, Dorothy Howell Rodham, was a homemaker whose days revolved around me and my two younger brothers, and my father, Hugh E. Rodham, owned a small business. » writes Hillary Rodham Clinton in her memoirs.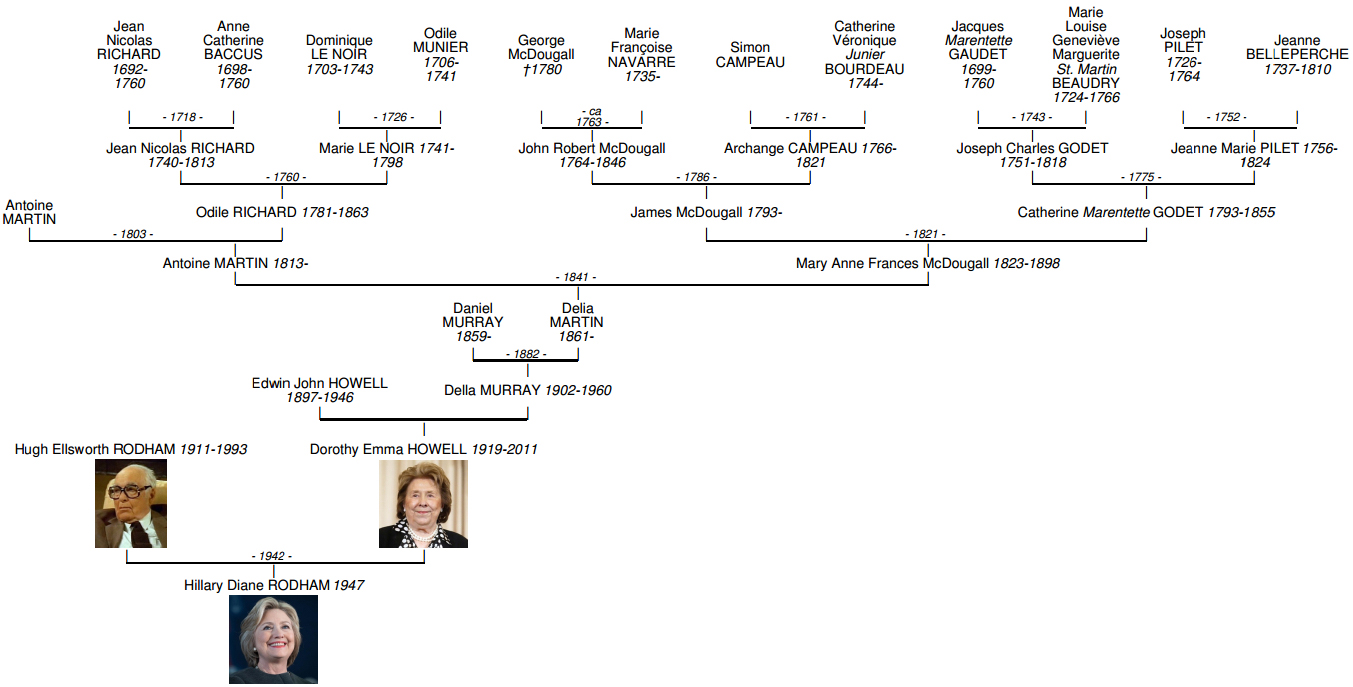 Hillary Clinton mentions her French roots
in her autobiography Living History
published in 2003

Della Murray, her maternal grandmother
Della Murray was born in 1902 in Aurora (Illinois), daughter of Daniel Murray and Delia Martin. She is only 16 years old when she married Edwin John Howell, Jr., a 20 year old boy in Chicago in 1918. The following year, the couple has a first daughter, Dorothy, Hillary's mother.

«My maternal grandparents were certainly not ready for parenthood. Della essentially abandoned my mother when she was only three or four, leaving her alone all day for days on end with meal tickets to use at a restaurant near their five-story walk-up apartment on Chicago's South Side.» The couple has a second daughter named Isabelle in 1924.

In 1927, Hillary's young grand-parents finally got a divorce. «They sent their daughters from Chicago by train to live with their paternal grandparents in Alhambra, a town near the San Gabriel Mountains east of Los Angeles. (…) [Dorothy] stayed in California for ten years, never seeing her mother and rarely seeing her father. (…) When she graduated from high school, my mother made plans to go to college in California. But Della contacted her for the first time in ten years and asked her to come live with her in Chicago. Della had recently remarried and promised my mother that she and her new husband [Max Rosenberg 1901-1984] would pay for her education there. When my mother arrived in Chicago, however, she found that Della wanted her only as a housekeeper and that she would get no financial help for college. (…) Heartsick, she moved into a small apartment and found an office job.»

Hillary describes her grandmother Della «as a weak and self-indulgent woman wrapped up in television soap operas and disengaged from reality.»

Della Murray died on March 25, 1960 at the age of 57 in Miami at Jackson Memorial Hospital.

Although the maternal grandfather of Della Murray, Antoine Martin, was born in France around 1816, it is in the ancestry of his wife, Mary Anne Frances McDougall that he married on June 22, 1841 in Windsor (Ontario) that the ancestors of French-Canadian origin of Hillary Rodham Clinton can be found.


The French-Canadian ancestors and the famous cousins
Catherine Godet (1793-1855), the mother of Mary Anne Frances McDougall, is a direct descendant of the Percheron pioneer Nicolas Godé, an emigrant originating from the vicinity of Igé (Orne, France).

Her family tree counts other Percheron emigrants as the famous Jean Guyon, the direct ancestor of Celine Dion, Mathurin Gagnon, both originating from Tourouvre, Gaspard Boucher from Mortagne-au-Perche and a common ancestor of Celine Dion, Madonna and Camilla Parker-Bowles.

Moreover, Pierre Gagné, a pioneer from Igé like Nicolas Godé is represented in the ancestry of James McDougall, the father of Mary Anne Frances McDougall. This makes Hillary Clinton a relative of Celine Dion and Madonna.

Angelina Jolie has several Percheron ancestors but none are common with Hillary Clinton. Their common ancestor is the Normand Jean Cusson, originating from the vicinity of Rouen (France).


sources
• "Living Story" (Hillary Rodham Clinton, editions Simon & Schuster - 2003)
• note of William Addams Reitwiesner
• The Research Program in Historical Demography (PRDH) - University of Montréal

---